Little Haiti Optimist Foundation and Northeast Second Avenue
Partnership (NE2P) invites you to participate in the 4th annual Art
Beat Miami during Miami Art Week (Art Basel Miami Beach),
December 6th – 10th located inside the Caribbean Marketplace at
the Little Haiti Cultural Complex.
Art Basel Miami Beach has become an international mecca for art
lovers, attracting visitors from across the globe. In its 15th year, this
art fair showcases artwork and galleries from countries alla over the
world drawing more than 100k visitors each year.
Art Basel acts as a catalyst, spawning special exhibitions at
museums and galleries across the city. Satellite locations, including
Miami Beach, Little Haiti, Midtown, the Design District and
Wynwood, transform the city into a dense and dynamic cultural
hub for the week.
EVENT OVERVIEW
The iconic Caribbean Marketplace (In the heart of Little
Haiti) will transform into a pop-up gallery showcasing the
works of more than 30 emerging and renowned local and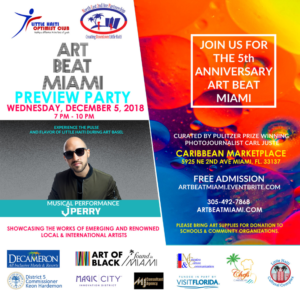 international artists and celebrities.
Art Beat Miami will launch on Wednesday, December
6th, with an Opening Reception celebrating a one of a
kind experience of visual art, music and food inspired by
the people and culture of the Caribbean.
The Art Beat Miami Art Fair will open daily from 12:00 pm
to 8:00 pm with musical performances, LIVE art,
conversations with artists and food.
Other signature events include: Spice it Up! Miami,
Chefs of the Caribbean Celebrity Brunch and
Conversations with the Artists and more.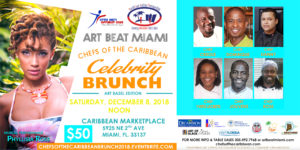 In its fourth year, Art Beat Miami will showcase the best works across a variety of
mediums including paintings, sculptures, drawings, new art, installation and
photographs. The focus will be on local artists, but will also feature a component
with internationally renowned artists and celebrities.
Celebrity art and sculptures will be on display for sale to benefit hurricane relief
efforts.
In 2016, Art Beat Miami drew more than 5k attendees during the four-day festival.